Optimizing database performance: 5 TIPS based on using monitoring systems to avoid performance issues
How frustrating is it when an application or a webpage is slow?
A database is the nerve center of any application meaning if you experience performance issues the cause is most probably located there. Moreover, if you provide an IT service a misbehaving database is going to occasion unhappy clientele and an overloaded complaints box. That's why we're taking a look at ways of optimizing your database to increase database performance and avoid unnecessary problems while simultaneously improving your platform.
A monitoring system is key for increasing database performance, providing feedback on your devices and applications, and pointing you toward any problems with detailed historic data on, end user response times and much more.
Here are our 5 recommendations for optimizing database performance:
1. The number 1 recommend is to choose a good monitoring system. If you're still in search phase you might like to take a look at our article Top 16 best monitoring tools for 2016. Whichever software you decide to go with should have a variety of tools and elements, and, very importantly, it needs to offer a global view of all the tools, services and applications running on your system – their well functioning and their location, whether physical or virtual, and including your database. A well set up monitoring tool is going to provide you with the necessary oversight of your IT environment, giving you advance warning of anomalous network behavior, creating alerts, locating chokepoints and bottlenecks slowing your system down and allowing your system administrators to take preemptive action.
2. Continuing with the importance of a monitoring tool, the second tip is to know your database's history in order to know at what moments the database is susceptible to slowdowns and failure, and consequently when extra vigilance and care and attention is required. Comparing the database's performance over time gives insightful data into which applications are active at the same time and when variations in use can cause problems. Once any variation has been located your monitoring system allows your admin people to trace changes in code or configuration and deal speedily with the issue.
3. Thirdly, get your DB organized. Information is only helpful if it's accessible. Avoid fields and charts that you never use, and simplify the fields you do use as much as possible save data in an orderly way, easily searchable, establish relations, don't store large binary files, etc.
4. If you've followed the three tips above you now have your monitoring system deployed and you're managing your database correctly. The next step is to go beyond the traditional systems, introducing intuitive screens that display your infrastructure's status visually, via easily interpretable graphs and charts, and coupled with trouble-shooting tools that facilitate rapid location of and solutions for any problems detected or anticipated. Tools like Pandora FMS allow you to view how application requests are executed and show the different processes and resources that the application is waiting for. You shouldn't underestimate the visual element, especially if you come from a technical background, as an intuitive display can effectively communicate information to non-technical staff, saving time and making the decision-making process more fluid.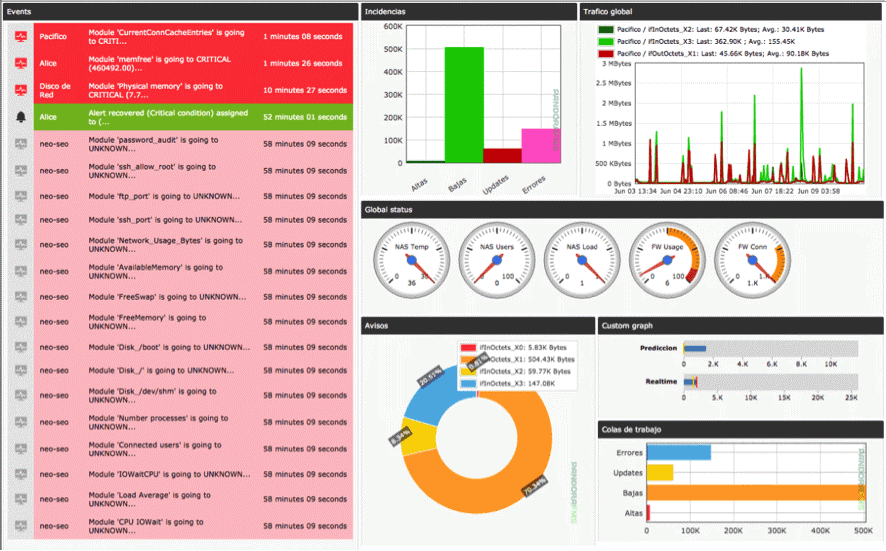 5. Last but not least, you'll know whether your applications or online elements are compatible with the different OSs, devices and technologies in your IT architecture. That's what a global and unified vision of an application's performance will provide. Analyzing wait times gives useful data on whether there is a problem with one platform or another, see where the errors are and solve them, and ensure your personnel are happy and productive.
If, in the unlikely case that you've followed our recommendations and are still experiencing database issues it just may be that you need a new kind of DB, better suited to its environment. For example, if you operate a website and it's starting to get more hits it's possible that it may not respond to the new demands placed on it, making a replacement database practically imperative.
Getting the most out of your database (or even replacing it) needn't be difficult and will be an asset to your organization. Hopefully these five tips will be the start of a wonderful new relationship with your DB, whether you're toiling in the guts of the network or reading the reports sent to you from your IT staff. If your thirst for network system knowledge is still unquenched you can visit our blog or feast your eyes and ears at our YouTube channel.
About Pandora FMS
Pandora FMS is a flexible monitoring system, capable of monitoring devices, infrastructures, applications, services and business processes.
Of course, one of the things that Pandora FMS can control is the hard disks of your computers.
Would you like to know more about what Pandora FMS can offer you? Discover it by entering here: https://pandorafms.com
If you have more than 100 devices to monitor, you can contact us through the following form: https://pandorafms.com/en/contact/
Also, remember that if your monitoring needs are more limited you have at your disposal the OpenSource version of Pandora FMS. Find more information here: https://pandorafms.org
El equipo de redacción de Pandora FMS está formado por un conjunto de escritores y profesionales de las TI con una cosa en común: su pasión por la monitorización de sistemas informáticos.
Pandora FMS's editorial team is made up of a group of writers and IT professionals with one thing in common: their passion for computer system monitoring.