Business Activity Monitoring
Business monitoring
The intersection of business and our monitoring technology. It's all about bringing the CIO and CEO a real-time view of what's happening, and where there might be room for improvement.
Did the data sent from a special customer, supplier or branch arrive at its destination on time?
Did all the data arrive in the expected format? Which part of the process is taking longer than usual? When the processing is single-item based, can we detect any elements that are stuck or pending for processing? Has the process received a higher number of defects than usual? Can your present monitoring package answer all these questions? Ours can. And more.
How we do it
To monitor your business, first we have to understand it. That's why, along with a powerful monitoring solution, we also offer a high quality, highly specialized, business consulting service that relies on our experience in monitoring and Business Intelligence (BI).
Working closely alongside people on your team who understand the business, we'll look for information resources and the rules that make sense of the integrated data. Using our technology we gather and organize this information periodically, feeding your real-time business dashboard, enabling you to predict trends in customer behavior, keep your clients up-to-date on your latest products and services via scheduled, targeted mailshots and be more proactive in seeking new paths to market, among almost infinite possiblities.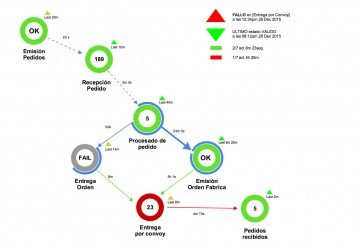 What do we offer?
On your screen you'll have just the data you need to see, nothing more. In the office, at home or on the go with your mobile device: receive all your data 24/7 and always in real-time. You'll have a personalized dashboard that'll fit your business like a glove.
Forget about scheduled updates or long waiting periods in order to obtain vital information about your business processes. We will establish alerts to warn you when something is not within normal parameters, so you won't need to stare at the screen constantly – the system will let you know when something fails.
Discover how you can reduce the cost of your operations by 25%