What's New Pandora FMS 764 RRR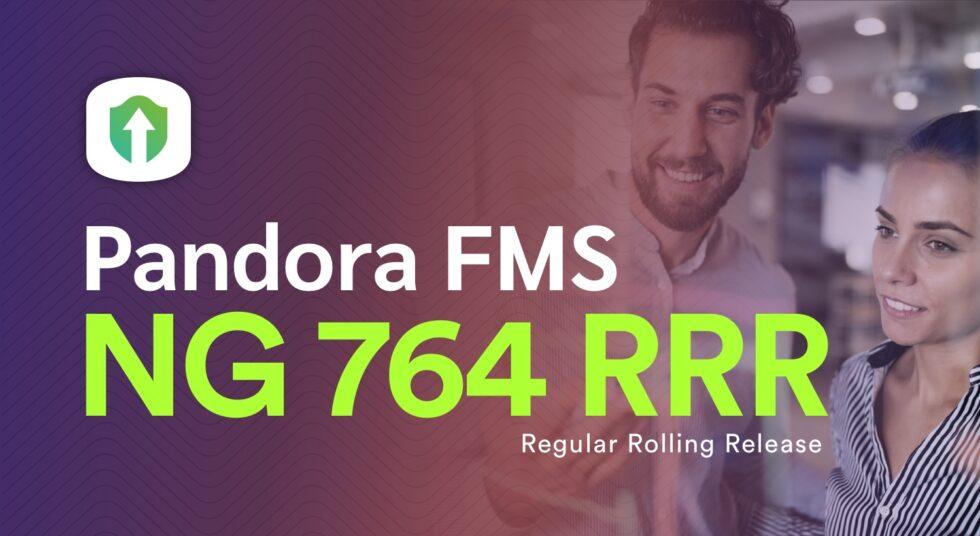 Let's check out together the features and improvements included in the new Pandora FMS release: Pandora FMS 764.
What's new in the latest Pandora FMS release, Pandora FMS 764
NEW FEATURES AND IMPROVEMENTS
New graphical interface of the sound events console
The sound events console has been modified to separate event configuration from their display. It now shows a progress bar over time until the next refresh and has improved usability in controls, filtering and selection.
New data representation in agent view
Improved display of statuses and data in the main view of an agent:
Scheduled agent autoconfiguration application
Added the ability to schedule the appliance of Command Center agent auto-configuration rules automatically.
New dashboard widget: "Color Tabs"
A new widget has been added to Dashboards. With the "Color Tabs" widget you may choose up to a maximum of 10 modules that will be represented horizontally showing its name, data and status.
New dashboard widget: "Block Histogram"
A new widget has been added to Dashboards. With the "Block Histogram" widget you may choose as many modules as you want to represent their histogram in the same table.
Pandora WMIC package for ARM systems
Available as an RPM package and DEB in our community
  download section
  , in the "Other utilities and dependencies" section.
IPAM from Satellite
From this version it is possible to define IPAM network scanning from the Satellite server, indicating it in the Satellite's server configuration file.
Satellite Server Visual Interface (GUI)
The possibility of configuring the Satellite server remotely from the server view has been incorporated. A dynamic search has also been added within the different tokens to speed up the configuration process.
New report server
A new report server has been incorporated, which works as a reporting-only console. It allows you to create very large and numerous reports in the background and store them on disk or send them by mail.
Cisco IP SLA plugin support with snmpv3 and snmpv2c – Open Plugin
Added support for snmpv2c and snmpv3 to the plugin.
Go to Library
Plugin open Cisco ironports – Plugin Open
New plugin to monitor Cisco Ironport Antispam.
Go to Library
SAP HANA Database Enterprise Plugin – Enterprise Plugin
Plugin to monitor SAP HANA Database using custom queries that can be defined in a file. The plugin comes with a file with default queries but can be edited for a custom execution suitable for each case.
Go to Library
Resources
Novedades Pandora FMS 764 RRR
Repasemos juntos las mejoras y nuevas funcionalidades que vienen ligadas a la nueva release de Pandora FMS: Pandora FMS 764.
Novedades en la última release de PFMS, Pandora FMS 764
NUEVAS FUNCIONALIDADES Y MEJORAS
Nueva interfaz gráfica de la consola de eventos sonoros
Se ha modificado la consola de eventos sonoros para separar la configuración de los eventos de la visualización de los mismos. Ahora muestra una barra de progreso con el tiempo hasta el próximo refresco y se ha mejorado la usabilidad en los controles, filtro y selección.
Nueva representación de datos en la vista de agente
Se ha mejorado la visualización de estados y datos en la vista principal de un agente:
Aplicación programada de autoconfiguración de agentes
Se ha añadido la posibilidad de realizar una programación para aplicar las reglas de autoconfiguración de agente de Command Center de manera automática.
Nuevo widget de dashboard: "Color Tabs"
Se ha añadido un nuevo widget en Dashboards. Con el widget "Color Tabs" podremos escoger hasta un máximo de 10 módulos que serán representados horizontalmente mostrando el nombre, dato y estado del mismo.
Nuevo widget de dashboard: "Block Histogram"
Se ha añadido un nuevo widget en Dashboards. Con el widget "Block Histogram" podremos escoger tantos módulos como queramos para representar el histograma de todos ellos en la misma tabla.
Paquete Pandora WMIC para sistemas ARM
Disponible como paquete RPM, y DEB en nuestra sección de descargas de la comunidad, en la sección de "Otras utilidades y dependencias".
IPAM desde Satélite
Desde esta versión es posible definir escaneo de redes IPAM desde el servidor satélite, indicándolo en el fichero de configuración del servidor Satélite.
Interfaz visual (GUI) para Satellite Server
Se ha incorporado la posibilidad de realizar la configuración del servidor satélite de manera remota desde la vista de servidores. Se ha introducido además una búsqueda dinámica dentro de los distintos tokens para agilizar el proceso de configuración.
Nuevo servidor de informes
Se ha incorporado un nuevo servidor de informes, que funciona como una consola dedicada exclusivamente a generar informes. Permite crear informes muy grandes y numerosos en segundo plano y almacenarlos en disco o enviarlos por correo.
Compatibilidad plugin Cisco IP SLA con snmpv3 y snmpv2c – Plugin Open
Añadida compatibilidad con snmpv2c y snmpv3 al plugin. Ir a la librería
Plugin open Cisco ironports – Plugin Open
Nuevo plugin para monitorizar los Antispam de Cisco Ironport. Ir a la librería
Plugin enterprise SAP Hana Database – Plugin enterprise
Plugin para monitorizar SAP Hana Database usando consultas personalizadas que se pueden definir en un fichero. El plugin viene con un fichero con consultas por defecto pero puede ser editado para una ejecución personalizada adecuada para cada caso. Ir a la librería