Christmas greetings from Pandora FMS and its members
Whenever I have to write this article, the official one, our corporate Christmas greeting, the cold and the smell of a fireplace invades me. It's true, and I have to rush over to put on my thick socks and find a steaming cup of chocolate and an appetizing reading to enjoy by the crackling fire. I think about family, christmas treats, the Christmas carols that I sang at school and how I managed to learn the whole "Adeste Fideles" in Latin being such a young boy…
In short, every last thread of light projected by the covered trees and ornate streets invades me and I want to congratulate Christmas to everyone I come across with. So CONGRATULATIONS!!!. MERRY CHRISTMAS, HAPPY HOLIDAYS, HAPPY EVERYTHING.
This year in Pandora FMS we have gone through the same 2020 as you, an unpleasant and TERRIBLE thing. Nobody likes to see how half the planet gets sick and the other half cannot leave their home. Even so, like all of us, we have fought our own way to save the situation as much as possible and achieve the unattainable in the darkest days.
Without going any further, after a very detailed study, we have made substantial changes in our release strategy, something that our customers are already appreciating. To give you an idea, we will offer, on the one hand, stable long term releases, while on the other hand we will keep on providing steady short term improvements.
We have adopted a very simple and common model, which is to use LTS versions (Long Term Support) and we will launch two versions a year in April and November. Between these two periods, we will provide three updates and keep the consecutive numbering, in accordance with the rolling release philosophy.
Another advance we made this year, together with our online store and the two new types of license!, given the growing demand for SaaS-based monitoring services, is that of a new channel approach for SaaS. We had to take advantage of this market spike!
In this new channel stage for SaaS we took our chances on reference partners. The relationship and closeness with our clients is essential to carry out any task, but here it is even more so. To guarantee the best service we have selected an exclusive partner per continent: Uniway Technologies in Europe, SITS Soluciones in South America and RWorks in Asia.
This year we also met at the ICT event focused on the most anticipated industry sector of the year, IDG Virtual Conference Industry 4.0., where we stayed, side by side, with large companies discussing the ups and downs of what is happening right now in business and technology.
But these are not the only big changes that we have been able to experience this year in Pandora FMS. Dear friends, after many years, our company has changed locations! I know we were very happy right in the center of the capital, on Gran Vía itself, but right now our new offices are enviable, much bigger and more comfortable, in fact right now I'm writing this article from them and I almost seem to breathe that air of joy that is breathed in on the peaks of ski resorts, just when you get off the chairlift. A delight for your senses and collaborative working!
Without further ado, we want to reiterate our Christmas message, with the utmost desire that you stay safe and with your loved ones this 2020, which is now over and has not been able to bring us down.
HAPPY HOLIDAYS FROM PANDORA FMS!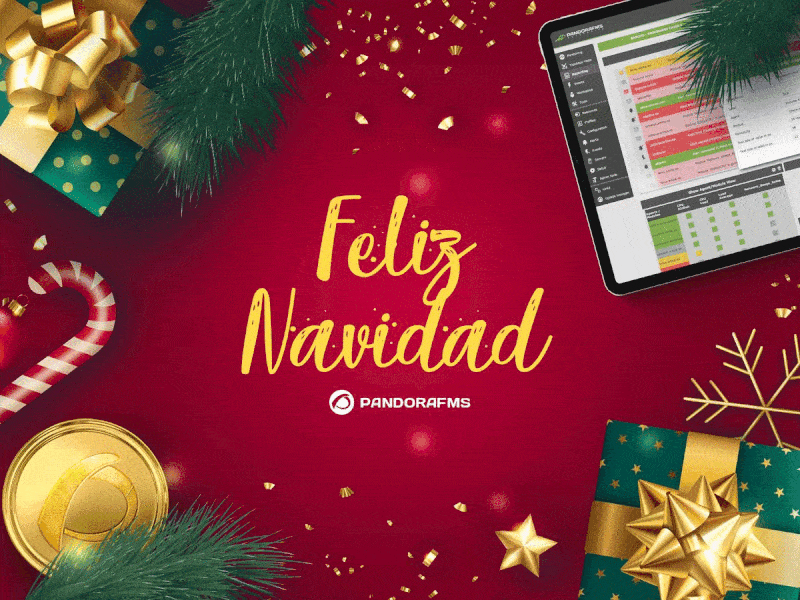 />
El equipo de redacción de Pandora FMS está formado por un conjunto de escritores y profesionales de las TI con una cosa en común: su pasión por la monitorización de sistemas informáticos.
Pandora FMS's editorial team is made up of a group of writers and IT professionals with one thing in common: their passion for computer system monitoring.